---
---
Affiliated with the URJ
Congregation Betenu
Five Northern Blvd #1
Amherst NH 03031 USA
+1 603/886-1633
serving the greater Nashua area
Congregation Betenu is a Reform Synagogue located in Amherst, New Hampshire. Betenu is a small, warm and friendly congregation. Our
mission
is to be a home for all who wish to participate in Jewish community.
To contact the Betenu office, please click here or call 603-886-1633.
May / June Services and Events
Tuesday May 23, 7:30 PM: Betenu Annual Meeting
Friday May 26, 7:30 PM: Service led by Rav Bryan and Tamara Golosarsky
Saturday May 27, 10:30 AM: Bat Mitzvah of Tamara Golosarsky
Friday June 2, 7:30 PM: Shavuot Service, including community service project presentations by this year's Bat Mitzvah students
Friday June 9, 7:30 PM: Lay-led Service
Friday June 16, 7:30 PM: Lay-led Service
Friday June 23, 7:00 PM: Family Service

Shavuot at Betenu
This year the festival of
Shavuot
begins at sunset on May 30. Shavuot is the Jewish festival that marks the giving of the Torah at Mount Sinai. The reading of the Ten Commandments celebrates this event. We also traditionally read the Book of Ruth at Shavuot. Dairy dishes are the food of choice, perhaps as Jews think of the land of milk and honey. Blintzes are a traditional dish, as is cheesecake.
Betenu will observe Shavuot on Friday evening June 2, when all are welcome to join us at 7:30 PM for Betenu's annual Shavuot Service. This year, the service will include presentations by the three Betenu students who became B'Nai Mitzvot during this past year. At Betenu, an important requirement for becoming Bar/Bat Mitzvah is to organize and perform a Mitzvah community service project. In addition to observing the festival of Shavuot, this is an opportunity to celebrate the community service projects that were performed this year by each of our students.
For more information call the Betenu office at 603-886-1633 or
click here to send email.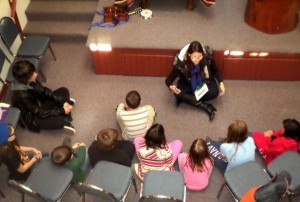 Religious School
Congregation Betenu Religious School offers a comprehensive Jewish education for students in grades K-7, including Jewish Studies, Hebrew, music, art, dance, holiday programming, and Rabbi-taught Bar/Bat Mitzvah preparation. The school features a qualified, caring, and experienced staff, small class sizes, and weekly Sunday sessions.
Registration is now open for the 2017-2018 school year. New students are welcome. For more information about our Religious School, or to arrange a visit, please contact the Betenu office at 603-886-1633 or click here to send email.
Click to see the 2016-2017 version of The Betenu Parent Handbook.
Calendars for May and June
Betenu's weekly newsletter is distributed via email.
To be added to our distribution list,
click here or call the Betenu office at 603-886-1633.


Hosted at Parkbits.com

updated 05/23/2017 by srm