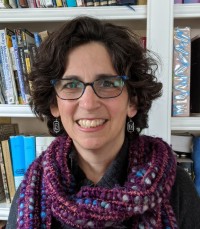 Dena Glasgow is in her last year of study at the Rabbinical School of Hebrew College in Newton, MA. Prior to entering rabbinical school, she served as Director of Faculty and Curriculum for Adult Learning at Hebrew College. She developed and continues to teach "Parenting through a Jewish Lens," in which she facilitates conversations for interfaith parents, parents of young children, and parents of tweens and teens. She was previously Director of the Boston-area Jewish Education Program (BJEP) at Brandeis University. She spent four years on the Book Selection Committee for PJ Library, a cutting edge Jewish program which sends out free high-quality Jewish books to hundreds of thousands of children around the world. Her background as a teacher includes teaching 6th through 11th grade students at Prozdor, Hebrew College, a central hub for Judaic and Hebrew studies in the Greater Boston area.
Dena has lived most of her adult life in New England, attending college at Yale University and then eventually moving to Newton, MA. With a deep love of Judaism, Dena earned a masters degree in Judaic Studies and Jewish Communal Services at Brandeis University. After college, Dena and her husband lived in Israel for over two years (in Haifa) and then returned a decade later for a sabbatical year in the Tel Aviv area. More recently, Dena spent a semester of rabbinical school living in Jerusalem.
Committed to Jewish pluralism, Dena believes that there are multiple avenues to connect to Judaism and that we all have something unique to offer the Jewish community. Dena is particularly passionate about teaching Bible and other Jewish texts, Jewish history, and contemporary Jewish issues.
Dena enjoys hiking, biking, and reading. She is looking forward to getting to know the bike paths and mountains of New Hampshire better this upcoming year. Dena lives with her husband, Jason. They have four children: Dani, Margalit, Miriam and Ronit.
Click here to view the letter that was sent to Betenu's members in April 2020 announcing Dena's selection as Betenu's Rabbinic Intern.

Dena may be reached by contacting the Betenu office: 603-886-1633, or click here to send email.