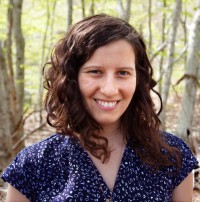 Giulia Fleishman is in her last year of study at the Rabbinical School of Hebrew College in Newton, MA. She grew up on Martha's Vineyard and has spent the last five years living in Boston and Jerusalem. Prior to rabbinical school, Giulia earned a BFA from New York University and studied in the Year Program at the Pardes Institute of Jewish Studies in Jerusalem. Giulia has also worked at libraries, taught Hebrew school, engaged with youth and seniors at a mental health clinic, taught ceramics classes, ran her own CSA, and led youth programs at a nature connection school.
While in rabbinical school, Giulia has served as the rabbinic intern at 2Life Communities, Hebrew Senior Life and The Martha's Vineyard Hebrew Center. During the summers she has pursued multiple units of clinical pastoral education in hospitals and eldercare facilities. As a rabbinic intern at 2Life, Giulia pioneered a B'nei Mitzvah class of 22 seniors ages 70-97, which focused on meaning-making and empowerment within Judaism and culminated in a group ceremony with over 600 attendees. She currently serves on the Board of the Martha's Vineyard Hebrew Center where she leads a variety of religious, social, and racial justice initiatives. This past spring Giulia was the 2021 recipient of the Linda Friedman Memorial Award.
In her rabbinic work, Giulia is dedicated to empowering Jewish people of all ages and backgrounds to claim their authentic and meaningful place in the Jewish community. She is particularly passionate about building creative, collaborative and caring communities nourished by Jewish wisdom.
Alongside her rabbinic work, Giulia loves to spend time outdoors and is passionate about gardening, animals, pottery, sewing, Hebrew calligraphy, and most creative outlets.
Click here to view the letter that was sent to Betenu's members in June 2021 announcing Giulia's selection as Betenu's Rabbinic Intern.

Giulia may be reached by contacting the Betenu office: 603-886-1633, or click here to send email.
Sermons: