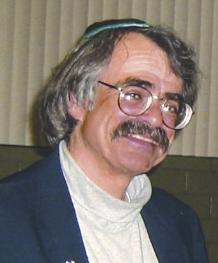 Volume 26, No. 4: Dec. 2008 - Kislev 5769
Subject: Rabbi's Message: Dec. 2008 - Kislev 5769:
---
When I moved to New Hampshire a bit over 25-years ago, the Jewish Federation was very limited to Manchester. The Federation transitioned first to Greater Manchester and now, they cover the entire state offering services and programming that is statewide. As a matter of fact, the November Jewish Federation of NH (JFNH) Board Meeting was held right at Betenu.

As the economy continues to slide downhill, it's no secret. People are hurting. People who had their retirement portfolios aggressively invested are hurting to the tune of 30 to 50%; the more conservative investors, perhaps 10 to 30%. The result is, many more of the "haves" of last year are "have-nots" this year. And, the demands for services by those who depend on our charitable gifts have increased dramatically.

Certainly the JFNH hopes that those who contributed last year will increase their gifts. And "2nd prize" is that people will maintain their giving from the previous year. The Federation provides us a statewide Jewish voice, financial grants to our religious school, a focused commitment to the cultural aspects of Israel, a monthly Newspaper, service awards (such as the Shem Tov) and much more.

We at Betenu would like to strive for 100% participation in the JFNH campaign, so if you've never given to the JFNH or were thinking about skipping this year because of last year's economic debacle, we request that when the solicitor contacts you to give something, even if it is only a token amount.

Most of you have heard what I am about to say a hundred times, so here is the 101st! Chanuka Gelt in its origins, were gifts of money to the poor. In response to pressure for Jewish kids to have "presents" that rival the other December holiday, Chanuka Gelt morphed into presents for our children. But especially in a tough year like this, your Chanuka Gelt is desperately needed for its classical purpose.

From Karen and me, best wishes for a Happy Chanuka and a Happy healthy, prosperous and charitable year in 2009.
---
Le-sha-lom,

Joshua L. Segal
---
Back to the Betenu Home Page