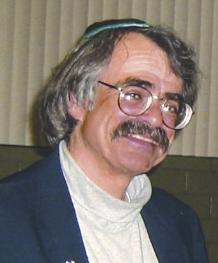 Volume 26, No. 3: Nov. 2008 - Cheshvan 5769
Subject: Rabbi's Message: Nov. 2008 - Cheshvan 5769: Two Opportunities in November
---
The year is off to a great start with one of our biggest growths in new members in years. Also, we are experiencing the largest growth in our rejuvenated religious school in the recent past. Perhaps the biggest problem we face is dealing with an unprecedented influx of new students and as the chaos dies down, I anticipate that it will be a great year for the school.
I want to speak to two November events being sponsored by Betenu, which I hope you will put on your calendars:
#1: The Matt Savage Concert on November 1: Matt is a wonderful talent and this is his second Betenu benefit concert. If you haven't heard Matt play, he is spectacular and you should hear him. If you already have Matt, you probably want to hear him again. For more on this event, see elsewhere in this Newsletter.
#2: The Four Rabbis on November 15: We couldn't book the "Three-Tenors" so we did the next best we could do. We got "the 4-rabbis!" Four of the Rabbis of NH have come out with a book in the last couple of years. Saturday night, November 15 at 7PM, Congregation Betenu will have a special program featuring these rabbis. In addition to Havdallah and snacks, there will be four presentations, about 15 minutes, each. We'll begin with Rabbi Joel Klein (retired, Manchester) who will be speaking on "Through the Name of God, A New Road to the Origin of Judaism and Christianity"; Rabbi Louis Rieser (Etz Hayim, Derry) will be discussing his book, "The Hillel Narratives"; Rabbi Larry Karol (Temple Israel, Dover) will tell about, and maybe even sing a song or two, from his books titled, "One Light Above: The Larry Karol Songbook, "Two are Better Than One" and "A New Beginning"; and yours truly will be describing my most recent book, "A Self-Guided Tour of Monuments of Jews Buried in the Mount Auburn Cemetery Cambridge, Massachusetts: A History of the Evolution of the Jewish Presence in America's Oldest Garden Cemetery."
The tentative schedule for the evening is:
7:00 to 7:15: Mill around and nosh.
7:15 to 7:30: Havdallah
7:30 to 7:45: Rabbi Joel Klein
7:45 to 8:00: Rabbi Louis Rieser
8:00 to 8:15: Rabbi Larry Karol
8:15 to 8:30: Rabbi Joshua Segal
8:30 to 9:00 or so: Nosh, look at the books and CDs, schmooz.
Autographed copies of our various publications and CDs will also be available for your viewing and purchase. It should be a great opportunity to meet some of NH's rabbis and to get an idea of the breadth and depth of the interests and the scholarship that these rabbis have developed.

- - - - -

While I want you to get these on your schedule early, we continue with the Tishri Holidays. Most of us do not need reminders for Yom Kippur. But as we move deeper into the autumn, the shelter, the Sukkah, can serve the additional function of reminding us of the shelter and warmth of our homes as the colder weather looms on the horizon.
---
Be-ve-ra-cha,

Joshua L. Segal
---
Back to the Betenu Home Page