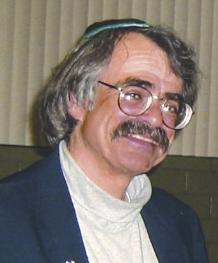 Volume 25, No. 3: Oct. 2007 - Cheshvan 5768
Subject: Rabbi's Message: Oct. 2007 - Cheshvan 5768: My New Book and a Book Signing
---
One of the biggest problems that small temples have is finding people willing to put in all of the work necessary to plan a program, do the publicity and just "make it happen." On the other hand, my writing leads me to look for opportunities to tell about the things I discover as I write. As such, my new book provides me with a unique opportunity to provide a program for the temple, publicize it and cater it: All you have to do is show up!!!

On Saturday, 7:00PM to 8:30PM, November 4, 2007, I will be doing a book signing at Betenu. The evening will start with Havdallah, the ceremony that is a transition from Shabbat back to weekdays. It will be followed by a Power Point presentation on my new book and then I will take any questions that you may have on the book (and usually, anything else.)

As most of you know, I have a great deal of interest in Jewish Cemeteries. My first book, "A Field Guide to Visiting a Jewish Cemetery" has been endorsed by genealogists, Jewish educators and those with general interest in cemeteries and is now in its 3rd printing.

My new book, "The Old Jewish Cemetery of Newport, A History of North America's Oldest Extant Jewish Cemetery" is about a fascinating place in Newport, RI, two-blocks from the Touro Synagogue dating back to 1677. It is an interesting mixture of Newport's Jewish origin with Sephardim (Jews of Spanish origin) in the 17th century, followed by a transition to Ashkenzim (Jews of European descent) in the 18th century and evolving into an American garden cemetery by the mid-19th century.

I hope you will put November 4th on your calendar and join Karen and me.
---
Le-sha-lom,

Joshua L. Segal
---
Back to the Betenu Home Page